Roll over image to zoom in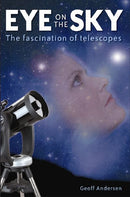 Description
Eye on the Sky is all about optical telescopes & their history, operation, discoveries, development and future. Telescopes and their use in astronomy and surveillance are increasingly fascinating to people, yet few know much about them. This superb book provides easy-to-understand factual information, as well as an exciting glimpse into the future. It offers a clear explanation of how telescopes work and why the costs for building them can aptly be described as astronomical.
In addition to the telescope's role in conventional astronomy, Dr Andersen describes telescopes used during the day (solar observatories), for detecting ripples in the fabric of space-time (gravitational wave detectors) and even for gathering extra-galactic particles (neutrino and gamma-ray observatories). As well as this, it looks at other uses for telescopes such as lidar, optical communications and space surveillance. The latter is something of great interest to the average reader, and it will answer the most common question: Just what can spy satellites see from space?
Title - Eye on the Sky: The Fascination of Telescopes
Author - Geoff Andersen
Edition- illustrated
Publisher - Exisle Publishing, 2006
ISBN - 0908988826, 9780908988822
Length - 248 pages
Payment & Security
Payment methods
Your payment information is processed securely. We do not store credit card details nor have access to your credit card information.
---
---
Security