Roll over image to zoom in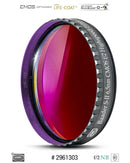 Description
This new generation of Baader CMOS-filters features:

CMOS-optimized Baader Filters
Increased contrast
Ever more narrow passbands
Reflex-Blocker™

 

coatings, for largest ever freedom from halos, even under most adverse conditions concerning aux-optics
FWHM on each filter category carefully designed

 

to allow for 1:1:1 exposures, matched for typical CMOS quantum efficiency and s/n ratio
Identical filter thickness

 

to existing standards, with utmost care for parfocality
Blackened edges all around, with filter-lead-side-indicator in the form of a black frontside outer rim, to additionally eliminate any reflection due to light falling onto the edge of a filter
Each filter coated individually, with sealed coating edge (NOT cut out of a larger plate with coatings left exposed,

 

read more)
Life-Coat™:

 

evermore hard coatings to enable a non-aging coating for life – even in a most adverse environment
2" x 2 mm Baader S-II f/2 Highspeed Filter – Precision Grade – with 2" (M48) filter thread
6.5 nm FWHM, recommended for extremely fast optical systems from f/3.4 to f/1.8
Specially designed for the special filter requirements when used with fast optics like the Celestron RASA astrographs
Reflex-Blocker™ hard coated and planeoptically polished – with sealed coating edges (Life-Coat™)
Blackened edges all around, with filter-lead-side-indicator in the form of a black frontside outer rim
Optimized for modern CMOS cameras, but excellent for CCD camera technologies
Mounted in Baader Low Profile Filter Cell (LPFC) – 6 mm height
NET WEIGHT (KG)
0.07
COLOUR
Black
TRANSMISSION RANGE
S-II
FILTER THICKNESS (WITHOUT CELL)
2 mm
HBW (HALFBANDWIDTH)
6.5 nm
CWL (CENTRAL WAVELENGTH)
671,7 nm
AR-COATING
Reflex-Blocker™ hard coated, planeoptically polished
SPECIAL FEATURES
CMOS-optimized with

 

Life-Coat™
FILTER SIZE
2 inch
FILTER USAGE
CMOS, CCD, S-II
FILTER MOUNTED
Mounted (LPFC 6mm)
TYPE OF FILTER
f/2 Highspeed
SINGLE OR SET?
Single Filter
FILTER SHAPE
round
Payment & Security
Payment methods
Your payment information is processed securely. We do not store credit card details nor have access to your credit card information.
---
---
Security