Roll over image to zoom in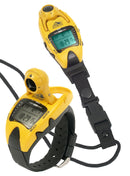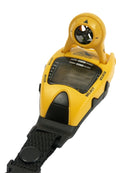 Description
The Weather Watch wrist watch uses a Swiss-made impeller for current, average, and maximum wind speed. One of the impeller fins is magnetized, highlighted in green and always points North. This allows you to mechanically determine wind direction. The display is backlit and the unit is water resistant to 10M! This watch set includes a handheld kit. You can transform the watch into a handheld instrument including a lanyard and protective case.
Features
◦Clock function (12/24h) and date
◦Hourly chime
◦2 daily, freely programmable alarms
◦Stopwatch (1/100 sec. up to 60 hrs.)
◦10 lap memories
◦Programmable countdown (1 sec. up to 24 hrs.)
◦Regatta Timer (3 fold programmable and 3 alarm settings)
◦Altimeter up to 9.164 m (30.149 ft.)
◦Barometer up to 1.100 hPa / mb (32,44 inHg)
◦Thermometer (C / F)
◦Wind gauge up to 300 km/h (mph, Knoten, m/s, fps)
◦Wind strength in Beaufort 1 - 12
◦Displays wind-chill
◦EL-HiGlo display illumination
Weather Watch Specifications
Wind Speed
Resolution: .06 MPH (.09 KPH)
Wind Range: 0-186 MPH (0-299 KPH)
Units: MPH, KPH, Knots, M/Sec, Beaufort scale graph
Temperature
Temperature and Wind Chill Range: -40 F to 176 F (-40 to 80 C)
Resolution: .18 F
Units: F or C
Altimeter
Resolution: 3.3' (1m)
Range: -30,065' to 30,065' (-9163 to 9163 m)
Barometer
Resolution: .01 in Hg
Range: 8.84 - 32.44 in Hg
Payment & Security
Payment methods
Your payment information is processed securely. We do not store credit card details nor have access to your credit card information.
---
---
Security